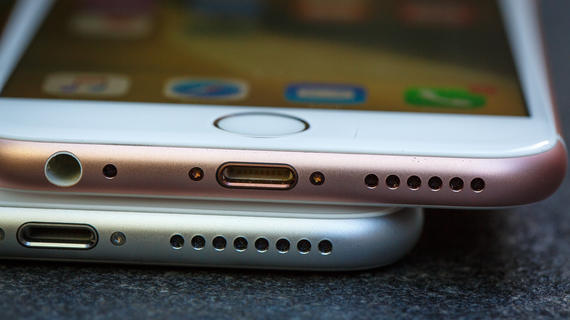 We may be finally getting over the iPhone.
Apple on Tuesday reported selling 74.8 million iPhones in the fiscal first quarter ended December 26, missing Wall Street expectations and posting the slowest growth since the company began selling the smartphones in 2007. In the same quarter last year, it sold 74.5 million units, and analysts had expected the company to sell 76.3 million units this year, according to a poll by Fortune.
What's worse, Apple predicted total company revenue would slide next quarter and said Phone sales are in for their first slump ever in the March period.
CEO Tim Cook blamed Apple's weaker results on the stronger value of the US dollar and global economic softness.
"We are seeing extreme conditions unlike anything we have ever experienced before," he said during a conference call with analysts.
Get personal with the iPhone 6S (pictures)
The numbers — massive for any other company but worrisome for Cupertino, California-based Apple — underscores the cooling attitude toward phones in general. More than two-thirds of Apple's revenue now comes from the iPhone, and the problem is Apple's next big thing, whether it's the Apple Watch or a bigger iPad, hasn't really gotten us excited.
The popularity of the redesigned iPhone 6, released in September 2014, led Apple to report the highest profit ever of any public company in last year's first quarter. Apple on Tuesday once again reported the most profitable quarter in history.
But the latest iPhone models, the 6S and 6S Plus, didn't add enough new features to prompt customers in places like the US to upgrade. In addition, the economy in China, one of Apple's most important markets, has been struggling and may have put a damper on the willingness of consumers there to snap up a new phone.
First ever iPhone sales drop
Apple typically doesn't provide estimates for iPhone sales in future quarters, but Cook on Tuesday confirmed that iPhone unit sales will fall in the current quarter for the first time ever. He wouldn't comment about expectations iPhone sales will drop for the full year and said he doesn't think the market is saturated. Almost half of the iPhones sold in China in the December quarter were to people buying their first smartphone, and Apple also sees opportunities in other emerging markets.
"This indicates to me there's still a tremendous number of people in the world who will buy smartphones and we ought to be able to win over our fair share of those," Cook said.
See also
Can Apple escape iPhone fatigue?
Apple beats world record in quarterly profits
Rough year ahead for those selling PCs, tablets and smartphones, too
Piper Jaffray analyst Gene Munster noted Apple's March revenue forecast implies it will sell 50 million to 52 million iPhones in the period. Before Tuesday's report, analysts projected Apple would sell about 55 million iPhones in the second quarter.
Part of the expected iPhone weakness is due to China. Cook on Tuesday said Apple started seeing some signs of economic weakness in China earlier this month, particularly in Hong Kong, but added he remains confident in the longer term.
In the December quarter, sales in Greater China, which includes mainland China, Taiwan and Hong Kong, rose 14 percent to $18.4 billion. The region has been one of Apple's most important markets in recent quarters and even surpassed the US to become Apple's biggest iPhone market in last year's March quarter.
March wobbles
Analysts had largely expected Apple to post a slight increase in this year's first-quarter iPhone sales but hit a speed bump in the current March quarter. More than 10 of the company's major suppliers have warned business has slowed down in recent weeks, and it's hard to imagine that Apple would be immune to those woes.
"There are downside concerns given continued negative data points from the supply chain as well as continued currency deterioration, particularly in China," UBS analyst Steven Milunovich said in a note before Apple's earnings release.
For the March quarter, Apple projected revenue of $50 billion to $53 billion, down from $58 billion last year. Analysts polled by Thomson Reuters had expected sales of $55.48 billion. The decline would be Apple's first drop in a decade.
In the December quarter, Apple reported revenue of $75.9 billion, compared with $74.6 billion in the year-earlier period. Wall Street had expected sales to total $76.5 billion.
Net income increased to $18.4 billion, or $3.28 a share, from $18 billion, or $3.06 a share, last year. Analysts estimated per-share earnings of $3.23 a share.
iPad and Mac declines
Apple's iPad business continued to struggle during the quarter despite the introduction of the 12.9-inch iPad Pro. The company launched the device in November to attract business users and other buyers to its tablet line, which has been struggling for the past couple of years.
Hands-on with the iPad Pro (pictures)
Overall, iPad unit sales dropped 25 percent to 16.1 million. Analysts polled by Fortune expected it to sell 17.8 million units. This quarter's sales decline marks the eighth time in a row iPad sales have fall from the previous year.
Macintosh computer sales also slid in the period, down 3.8 percent to 5.3 million. Analysts projected sales of 5.8 million.
Apple didn't break out Apple Watch sales figures. The company lumps the device in with "other products" like iPods. Revenue for that segment grew 62 percent to $4.4 million. Analysts polled by Fortune believe Apple sold 5.5 million Apple Watches during the December quarter.
Cook didn't give more information about Apple Watch sales beyond saying the set a "new quarterly record." and were "especially strong" in December. The device hit the market in April.
Apple shares initially rose less than 1 percent in after-hours trading as the March guidance wasn't as bad as feared. By the end of the conference call, though, shares had dropped 2.5 percent to $97.50.
RBC analyst Amit Daryanani noted the March forecast, while below the average number expected by analysts, "will be perceived positively given rather difficult compares they had [versus the] iPhone 6 cycle."
Update at 1:45 p.m. PT: Addsdetails about iPad and Mac sales.
Update at 1:55 p.m. PT: Adds analyst comments.
Updates from 4:20 p.m. PT to 5 p.m. PT: Adds comments from conference call.