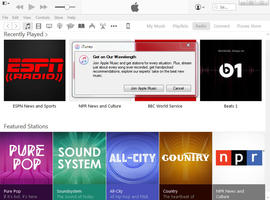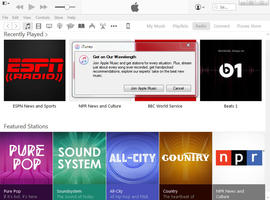 Try to launch an iTunes Radio station on your Apple device or your computer, and you'll now be prompted to subscribe to Apple Music.
Launched in 2013, iTunes Radio had been a free, ad-supported way to listen to stations devoted to specific artists and genres. But as announced earlier this month, Apple has turned off the free tap as of Friday.
There seem to be a few exceptions. With live broadcasts of music picked by DJs, the Beats 1 station is still accessible. I can also listen to news stations such as BBC News, NPR and ESPN. But all the other music stations I tried were unavailable unless I popped for an Apple Music subscription. A subscription is free for 90 days. After that, Apple starts charging $9.99 per month for an individual or $14.99 a month for a family plan with up to six users.
For a decade, Apple was the dominant force in digital music thanks to downloads from its iTunes store. As music streaming has gained popularity through services such as Pandora and later Spotify, Apple has played catch-up. The Apple Music streaming service debuted in June and now has about 10 million paid subscribers. By contrast, top-dog Spotify has 20 million paying customers.
Apple Music includes playlists created by "music experts," the Beats 1 radio station and a social feature called Connect that brings together musicians and fans. Apple Music initially received praise for its content but criticism for its overall interface and bugs when trying to sync with existing iTunes libraries.
iTunes Radio had been a more limited, standalone service, offering predefined music stations and the ability to create stations based on artists or types of music. Beyond serving up audio ads, iTunes Radio let you skip songs you didn't want to hear, but only up to a point. With an Apple Music subscription, you can listen to iTunes Radio without ads and can skip as many songs as you want.
(Via AppleInsider)