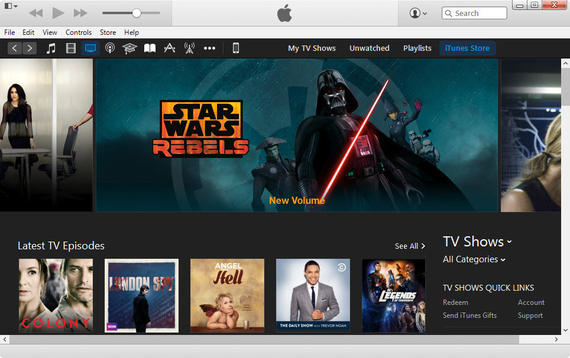 "Mozart in Cupertino"? "Unbreakable Timmy Cook"?
There's no telling what new series we'll be binge-watching if a recent report is on the money and Apple starts churning out original TV shows.
The Cupertino, California-based tech giant has been speaking with TV producers and studios about creating programs that would be offered exclusively to iTunes customers, anonymous sources told business news site The Street.
The shows may also be part of some type of cable TV offering that Tim Cook-led Apple could announce in September, says the Friday report.
The TV landscape has changed dramatically over the last several years, with Amazon and Netflix playing a key role. Both firms let viewers sidestep cable by streaming movies and shows over the Net. And both have done end-runs around the traditional studios, bulking up their content offerings with original and popular programming.
Earlier this month, Amazon's "Mozart in the Jungle" won two Golden Globes, including one for best TV series, musical or comedy. Netflix's "Unbreakable Kimmy Schmidt" is just one of a stable of well-known shows, which includes "House of Cards," itself a winner of a best TV show Golden Globe, in 2015.
In Amazon's case, original shows are woven into its larger Prime subscription service. If Apple were to get into the game, its own exclusive content could be a powerful draw toward its iTunes service and a jolt for sales of iPhones, iPads and Apple TVs.
Eddy Cue, Apple's chief entertainment architect, and Robert Kondrk, VP of iTunes content, have reportedly been chatting with Hollywood executives about the proposed initiative. The talks started late last year, according to The Street's sources, but no agreements have yet been signed.
Apple declined to comment on The Street's report.
Apple has been trying to gain more traction in the online video arena. Last October, the company introduced a new version of its Apple TV set-top box, which offers apps for streaming-video services, games and other content. The company has also been trying to develop a dedicated TV service for the past few years but has run into challenges trying to strike deals with content providers.
iTunes could provide the right avenue. Apple device owners use iTunes to purchase music, videos, apps, books and other content.
More than 1 billion iOS devices are in the hands of customers, Apple said in January of 2015. That opens up a huge potential audience for exclusive iTunes content, especially among people who have cut the cord on traditional TV. Revenue from iTunes, software and services continues to grow, rising to more than $6 billion last quarter, up from $4.8 billion in the same quarter a year ago, according to statistic site Statista.
"Since the beginning of television, content differentiation has been the single most important element driving the business," Blair Westlake, former chairman of Universal TV and a onetime top Microsoft executive, told The Street. "Apple undoubtedly recognized that offering programming that is only available on iTunes is a 'must have,' just as it is for mainstream TV."
So while Netflix may claim that "Orange Is the New Black," Cupertino may soon counter that, actually, Apple is.