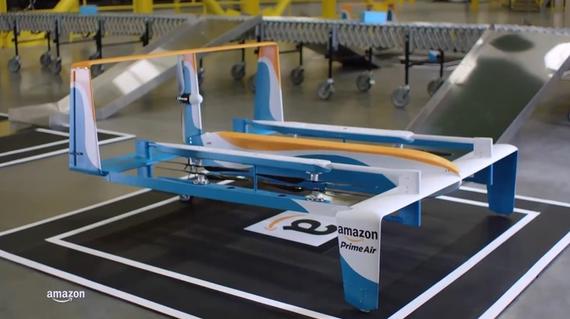 Amazon is making some headway in plotting the tricky logistics of how its drones someday will get your shopping orders to you.
The e-commerce company now has a good idea of how hefty the drones themselves will be, as well as the loads they'll carry, and how far they'll be able to go, said Amazon's vice president of global public policy, Paul Misener, in an interview with Yahoo published Monday. The packages will have to arrive within 30 minutes of the order being placed.
"The goals we've set for ourselves are: The range has to be over 10 miles. These things will weigh about 55 pounds each, but they'll be able to deliver parcels that weigh up to 5 pounds," said Misener.
Much of what Amazon sells would fall within that 5-pound payload limit, he said.
Amazon has grabbed headlines for its goal of one day delivering packages by drone to consumers' doorsteps, but before that can ever happen, it has to conquer a number of technical and regulatory challenges. It also likely won't be alone. Delivery specialist DHL has tried out its own "parcelcopters," while retail heavyweight Walmart in October declared its own intentions to start testing drones.
Meanwhile, Seattle-based Amazon has been busy building out its more earthbound delivery systems to keep customers from having to wait even a little bit. Subscribers to its Prime program in some places in the US, for instance, can now get one-hour delivery of many goods, and even restaurant orders. Through its new Dash Replenishment program, certain Internet-connected devices such as printers and washing machines will be able to place their own orders when supplies are running low.
As for the drones, Amazon is working with multiple prototypes simultaneously, according to Misener. That's because the company is unlikely to use just one mode, turning instead to drones that are suited to the environment in which they're operating, from dry and dusty desert cities to high-altitude or coastal locales.
Amazon did not immediately respond to a request for comment.
The 55-pound figure Misener attached to the drones matches the upper weight limit the US Federal Aviation Administration has set for its new drone registration system. A separate registration and vetting process is in place for larger models. The Amazon Prime Air service will be far from a small hobbyist's project — it involves sizable vehicles being deployed for commercial reasons, rather than for recreation. In November, Amazon unveiled its latest drone design, which tucks the package into its fuselage rather than carrying it below.
In July, Amazon proposed methods for regulating the kind of commercial drone use it intends to get involved in. It suggested that the government set aside a 200-foot-high stretch of sky for the vehicles to transit through. Misener reiterated the company was still backing this idea, and said the FAA and NASA both welcomed "the thinking that had gone into it."
It remains to be seen, though, when regulatory approval for Amazon's drone service might become reality.
Naturally there are other questions Amazon is still working out the answers to, like how much the service will cost and whether it worries that some people might try to shoot the drones down.
Although package-delivery drones may sound a bit sci-fi still, Misener is more sanguine. "The novelty," he said, "will wear off."