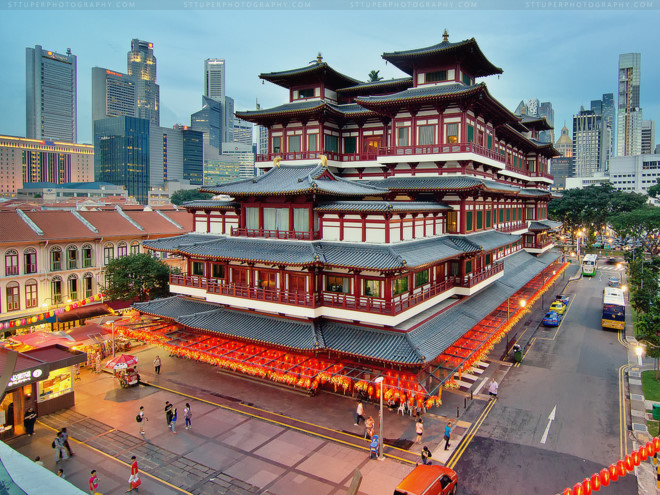 The Buddhist temple is located in Singapore's Chinatown, with its unique and sacred architecture. The temple is a place of worship of the Buddha.
The Buddhist temple was built in 2007, but the architecture and interior of the building originated from Buddhist art and history. The name of the temple derived from the relics is placed here – the left tooth of the Buddha. The ship was brought here from Kushinagar, India.
This Chinese-style pagoda was designed by the abbot Shi Fa Zhao (Pham Chieu monk), with the help of local people and foreign consultants. Temple construction cost up to $ 75 million. The Buddhist temple architecture is based on the elements of Tang architecture and the Mandala circle, a symbol of the universe in Buddhist culture.
The Museum of Buddhist Culture on the third floor exhibits many relics related to the Buddha, such as the bones and the tongue. The Sacred Light Hall on the fourth floor houses is the most important treasures of the temple. That is the Buddha 's tooth resting place in the giant stupa weighs 3,500. The tower is made of 320 kg of gold, of which 234 kg is donated by the devotees. Visitors see the lonely from the private observation area from 9-18h daily. Only monks are permitted to enter the room to remain in the abode.
In addition, you can also explore the Eminent Sangha, a stage where cultural performances, lectures and screenings are held. If you want a quiet corner in the bustling Chinatown, the garden in the attic with the Falun wheel is the perfect getaway. The temple also offers courses exploring the teachings of Shakyamuni Buddha for visitors. Every day, the Prajnaparasas Prajñā Sutra is fixed at 9am and 16h.
Guests can visit the temple or book a guided tour for free. The tour is conducted by volunteers, lasting about two hours and taking visitors through different levels. You will discover the Hundred Dragons (Hundred Dragons) Hall, which has hundreds of Buddha statues, and the Universal Wisdom Hall, where the art of bodhisattvas is displayed.
By: Anna Lee