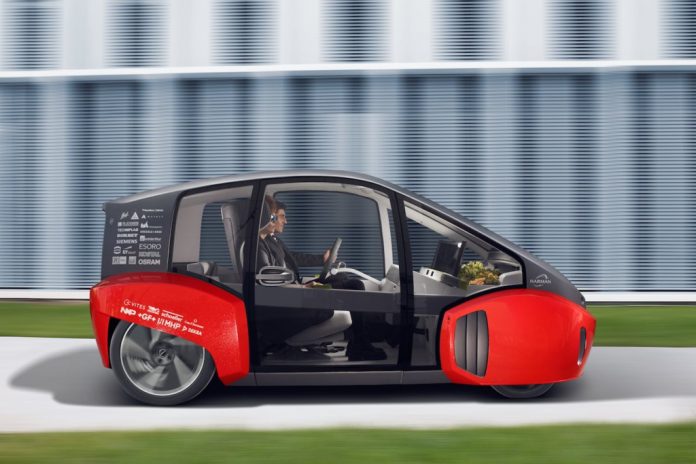 At the beginning of the year, many car manufacturers have introduced the concept. Many of these can be produced in the near future.
Chrysler Portal EV Concept: Fiat Chrysler has unveiled a slightly rough and completely unattractive design. However, this model integrates all the latest technology. It can be driven a maximum length of 400 km on a single charge. Due to DC Fast Charger technology for faster battery charging, the car can charge 50% in just 20 minutes. This car also uses advanced radar and sensor systems to support level 3 self-propulsion in the city, but still requires the driver's impact when needed.
Rinspeed Oasis 2017: Rinspeed revived Oasis car line, which was killed in the 90s with a completely new look. The design of this model is more modern when it is decorated miniature bonsai garden behind the front windshield. In addition to the trendy look, other gadgets are also equipped with Harman's touchscreen with voice recognition and fingerprint recognition, a barrier warning system on the front windscreen.
Honda NeuV: Honda first introduced the NeuV electric car at the CES. The car is compact in design, automatically pick up and drop off passengers even when the driver is absent. Not only that, Honda's car manufacturing technology advanced to include artificial intelligence inside the car to read the driver's feelings.
Volkswagen I.D. Buzz Concept: This model has remarkable performance and is able to run up to 435 km in a single charge. The vehicle incorporates a full range of radars, ultrasonic sensors and camcorders. In addition, the car has the function of collecting current traffic information for automatic operation. The touch screen is attached to the steering wheel for entertainment and direction. The driver can operate the car only with his smartphone.
Toyota Concept-I: Capturing drivers' expectations, Toyota brings artificial intelligence capable of talking, and self-learning, instructing the driver, alerting them when in danger. The car is still a traditional design and has no touch screen. However, the car has a scissor door and a flashing system when the owner comes near.
BMWi Inside Future: BMW's autopilot is designed as a small room with plenty of space and a bookcase below. Vehicles are equipped with HoloActive Touch floating screen system controlled by fingerprints. In addition, inn automatic mode, the steering wheel will be folded inwards. Big screen serves for entertainment needs in the back seat.
Nissan VMotion 2.0: The design of the car increases the internal area with new scissor doors. The ProPilot system optimizes self-operation up to 100 km/h. On the other hand, artificial intelligence in the vehicle is capable of sending information to the operating center, in anticipation of possible situations.