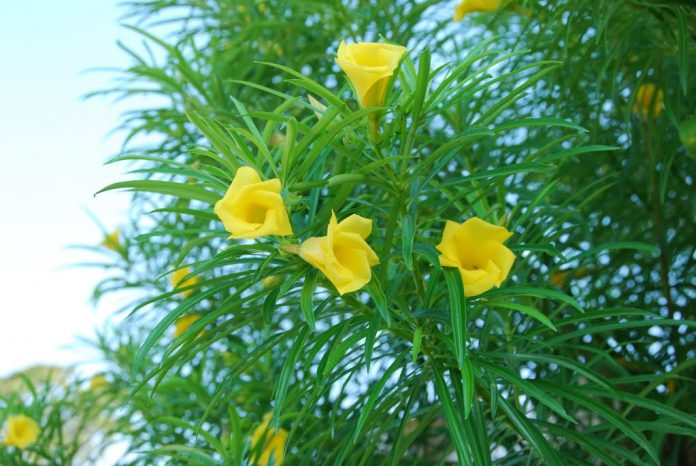 Oleander, castor oil, wootung tree, or rye are commonly planted in schools but containing toxins that are harmful to humans.
Datura alba Lour: the chemicals such as scopolamine and atropine cause blurred vision, nausea, dizziness, palpitations, hyperthermia, even cardiac arrest.
Nerium indicum Mill (Apocynaceae), otherwise known as peach. Parts of this plant contain cream-colored plastic, ivory yellow contains very dangerous toxins. They cause complete suppression of respiratory enzymes. If you eat only 10-20 peaches, an adult can be fatal and only one leaf can be fatal in children.
Thevetia peruviana is also a peach, which contains many toxins in flowers, leaves, fruits and seeds. Toxins in pine trees include: the vetin, neriin, glucosid can cause death in humans.
Allamanda cathartica is a peach, one of the poisonous plants. All plants including bark, flowers, leaves, seeds and latex contain toxins causing gastrointestinal disturbances, including abdominal pain, vomiting, diarrhea, sometimes accompanied by symptoms of swollen lips, dizziness.
Castor oil, also known as Ricinus communis. People poisoning from this plant will be vomiting, diarrhea and convulsions, fatal organ failure.
Jatropha podagrica contains poisonous curcin on the whole stem, especially tubers and seeds. Curcin causes dizziness and nausea if eaten.
                                                                                                                  By: Anna Lee